Are led corn bulbs any good?
What is an LED corn light?
Corn Cob LED lights are a wonderful replacement for the technologies of the past, such as metal halide and mercury vapor.









Why Are They Called Corn Cob lights?




Higher wattage LED replacement bulbs are referred to as corn lights because the rows of LED chips on the lamp look similar to the rows of cob on an ear of corn!

LED corn cob lights are one of the most efficient ways to replace metal halide, mercury vapor, and high-pressure sodium HID bulbs.

LED corn cob lamps come in 2 basic types - Direct Wire (ballast bypass) or Ballast Driven (plug-and-play). For today's blog, we're going to focus on the ballast bypass lamps and why you should consider switching from metal halide to LED corn cob lights.



Direct Wire / Ballast Bypass
Direct wire or ballast bypass LED corn cob lights operate directly on line voltage. We have found over the years that most of our customers prefer to replace their metal halide lamps with Direct Wire (ballast bypass) versions. Most like the idea of removing the transformer (ballast) and running line voltage directly to the medium household base (E26) or mogul base (EX39/E39) socket. This will reduce power usage and maintenance as you will be removing the power consumed by the ballast and the need to replace that ballast in the future.
Why Choose LED Corn lights?
There are many reasons why LED Corn Lights are now popular exterior lighting options, so we will cover the main factors.
Energy Efficient & Bright

: LED corn lights are used as a modern replacement for metal halide or HPS exterior lights. They can replace as high as 250-400 watts using only 60-150 watts. Due to the fact, their light output is so high consuming so little power, they're a fantastic outdoor lighting option. Especially for small, medium, and large-scale projects.

Easy Installation

: LED corn lights come with E39/E40 bases and E26/E27 adaptors. Meaning they can be screwed in and installed into any lighting fixture, indoors or outdoors.

Longer Lifespan

: Compared to metal halide and HPS there are very little maintenance costs and them last much longer. LED Corn light's longer lifespans make them great for street lighting projects, as they can produce 360-degree light for many years!
One of the biggest advantages of the corn light is that it allows people to upgrade their low bay, high bay, or outdoor lighting fixtures to LED without having to go through the trouble of replacing and discarding your existing fixtures. Simply bypass each fixture's ballast and screw in your new energy-saving corn lights—turn the power back on, and wow.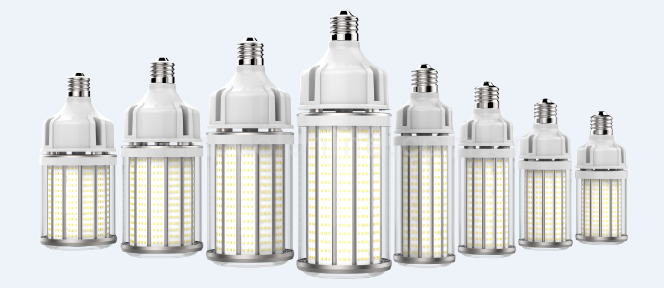 LED corn Light Applications, Where Can They be Used?
For lighting solutions LED Corn Lights are preferred for any scenario requiring high lumens output with wide coverage. Due to their structure and the way they have LED chips all around the body of the light, they produce bright wide covering beams. The light from corn lights usually is at 3000K warm white, 4000K natural white, 5000K daylight or 6000K cool white temperature. Making them applicable for making clear vision outside at night time or illuminating an area needing task lighting. Wide covering general lighting or bright task lighting are the two most common uses for LED corn lights.
Contact Us Now
If you need any help choosing the LED corn cob that is right for you or with switching from metal halide to LED lights, please give us email or use the live chat button on our site. Let's talk!